School Bears
School Bears helps teachers, schools, nurseries & PTAs with fundraising & promotion products, achievement, attendance, Xmas & leavers' gifts.
School Bears provides a small and exclusive range of products that can be personalised to individual schools without the need to order big numbers or incur setup charges. These personalised bears and other products sell well, making them effective fundraisers, which people like to buy. Choosing and buying products to use for school fundraising can be a stressful and a challenge for the experienced professional, let alone someone doing so for the first time. School Bears is happy to work with you to help design the products and make the whole process of creating quality, personalised school fundraising products as easy, stress free and as enjoyable as possible. Teddy bears always make people smile, everybody loves them, and when they have your school logo on their t-shirts, the children will want one, so will mum and even grannie too. These school products will be completely unique to your school, and pupils and parents will want to buy them. They make excellent school fundraisers for any event and can be used to mark special school anniversaries. Our leavers mugs with all their classmates' names on them make a great memento of the time each child spent at your school. School Bears offers a personal, friendly and easy to use service, with prompt delivery of these imaginative, personalised products. You choose which school fundraising products you require, send your school logo and wording to them, and they do all the work to make it happen. Here are some of their fantastic products: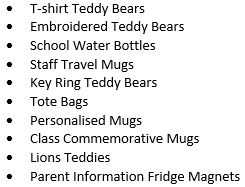 School Bears firmly believes in keeping customers informed of progress of their school fundraising order and they turn around orders very quickly. They always state the price that you will actually pay. No hidden charges or fees - guaranteed! School Bears' prices always include origination, proofing, printing and supplying your school products. The quoted prices even include VAT; the only additional charge is £12 delivery no matter what size the order. School Bears looks forward to hearing from you and helping you create the personalised school products that fulfil the needs of your school, your pupils, staff and parents.
"School Bears completes our celebration yet again! Our school gives our Year 6 leavers personalised bears for them to keep for ever to remind them of their time at primary school. School Bears writes the children's names and the value that they most represent on each bear and we present the beautifully made bears to the children in their final leavers assembly. The children absolutely love them, as they are of very high quality, wearing a personalised school jumper with our school logo. The bears are a meaningful gift for the children, serving as a reminder of happy days when they were little!" - Mrs L Coulthurst, Toynton All Saints Primary
"They really did pull out all the stops! We contacted School Bears fairly late on in the day to order items for our school's 10th Birthday celebration; we had around a week to go until the day. School Bears' service, communication, and customer service was absolutely exceptional. They really did pull out all the stops to help us and we couldn't have been happier with the final product. "I've used a number of merchandise printers in the past and can confidently and easily say that School Bears is the best. I wouldn't hesitate it recommending them or coming to them again, which I'm certain will happen." - Mike Walker, St Luke's CE Primary School
---