Novelty Imports
Novelty Imports - the complete all year round fundraising suppliers of inflatable prizes, toys, flags and light up glow novelties.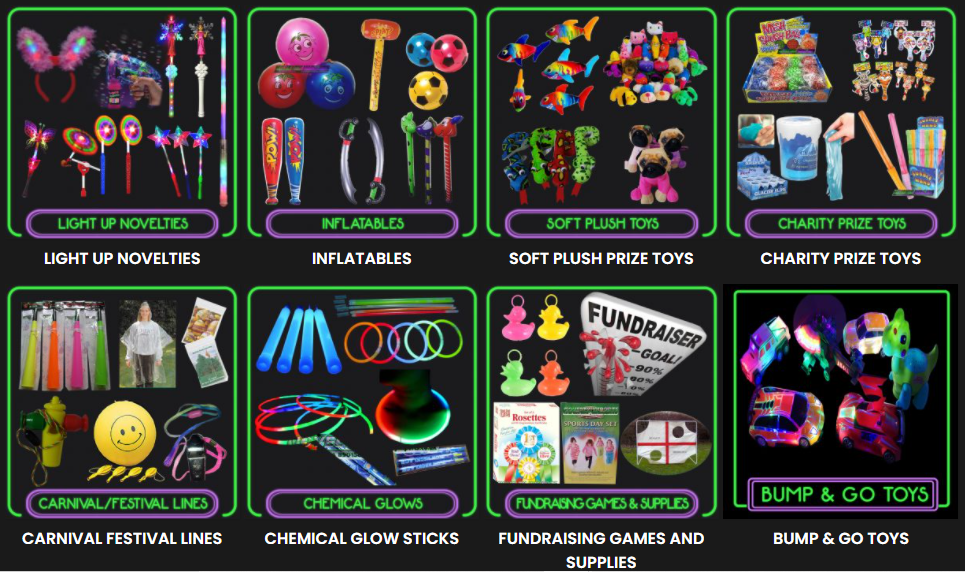 Novelty Imports has a huge range of inflatable prizes, footballs in nets, smelly scent balls, pocket money capsules and lucky dip toys, soft toys, bubble wands, latest craze toys etc. Check out the NEW complete ready to go school fundraising kits. Choose from toys/inflatables/teddies complete with win and lose tickets supplied, everything you need in one easy to use money raising box.
HUGE RANGE OF QUALITY TESTED LIGHT UP GLOW EVENT NOVELTIES!!!
Get ready for the dark nights; Novelty Import's all year round light up led and glow novelties can earn your school serious money at bonfire nights, Halloween and Christmas events. Check the website out for their latest range with pictures and video clips.
ORDER WHOLESALE ONLINE 24 HOURS A DAY www.noveltyimports.co.uk or call on: 01543 732008 or low call on: 08454 890158
Remember to follow them on Facebook & Twitter for exclusive school PTA & charity discount codes & offers.
Credit/debit cards, PayPal, bank transfer & cheques all accepted.
"I placed a fairly large order with Novelty Imports for our PTA's Firework Night. It was great to find such a wide range of 'glow in the dark' novelties and also to be able to buy in bulk at a great price. Delivery was first class and I am very pleased with our purchases." - Mike Plumley, Broadstone First School PTA
"Always a pleasure to do business with Novelty lmports, over the last two years l have not experienced anything but politeness and more importantly not sure how they have managed it but regardless of the time of day of our orders a delivery reaches us the following day seamlessly. Novelty lmports is one of our preferred suppliers with excellent customer service. Thank you." - Janet Walele, School PTA Special Events
---