Classlist.com
Free, safe alternative to WhatsApp + events tools. Reach all parents in one place. Supercharge school fundraising events with online ticketing, RSVPs and volunteer sign-up.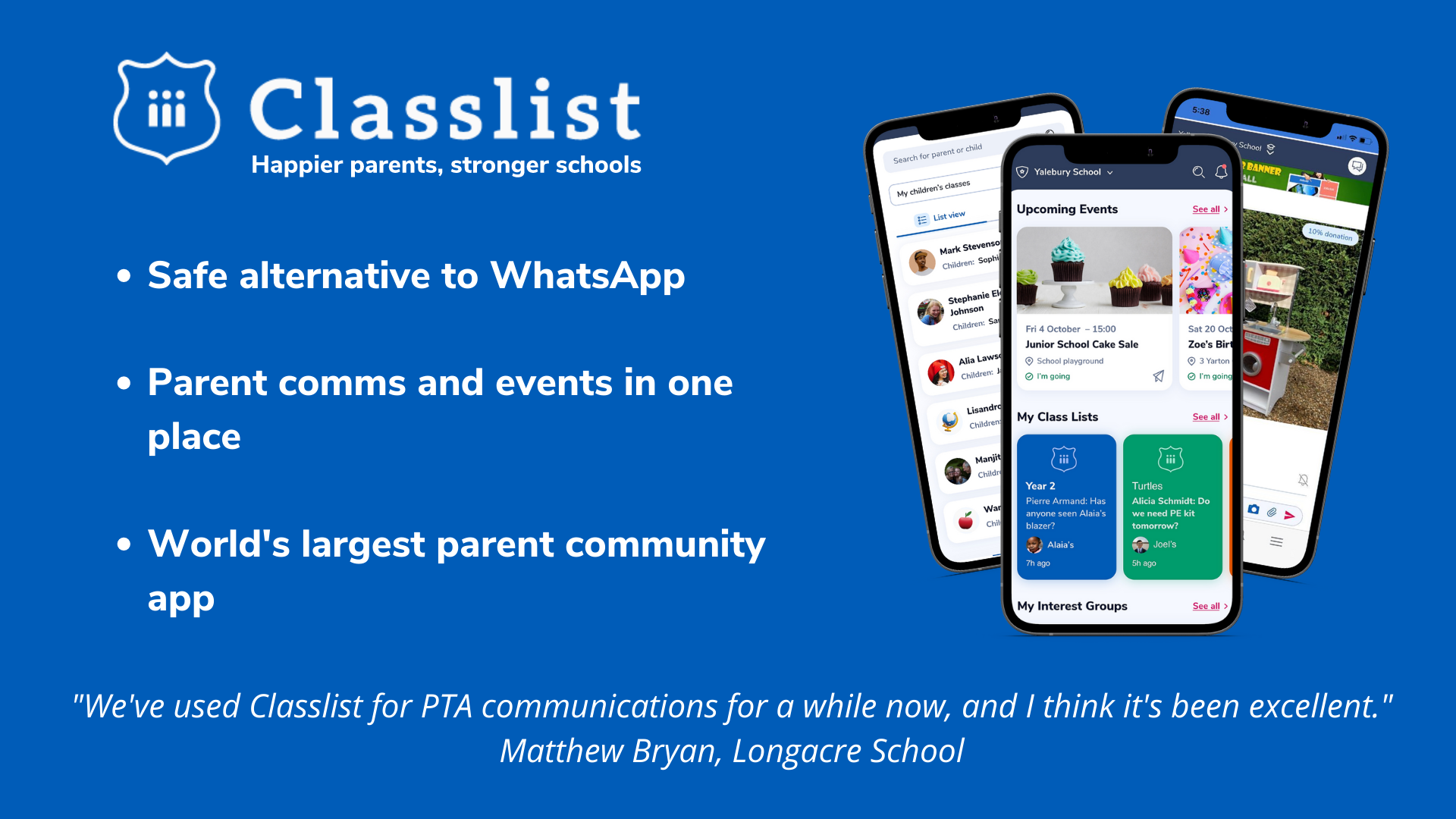 Classlist is the free online tool for your school community. Put simply, it makes life run more smoothly for PTAs and parents. Got a newsletter to send? Recruiting PTA members for the new term? Need volunteers for fundraising? You can do it all on Classlist. It's completely free to use, secure and fully data protected. It's the secure alternative to social media parent groups and a time-saving tool for staff battling to keep their spreadsheets up to date. It's unique to your school and only accessible to approved users. Parents choose which details they want to share and can securely contact each other about play dates, parties and more. Get started with Classlist, it's free
What can I do on Classlist? Class Contact Lists With your school's own Classlist, it's easy to create secure online class contact lists for your parents to use.


Parents add an email address and mobile phone number to register


Further contact details can be added, but users choose which to share with their class and year, and which to hide


Everything's secure and all info is data protected


Class Reps and Ambassadors invite and approve each parent that registers - so no random folk in your community


Event Ticketing Function A private party, a class coffee morning, a quiz night. Our easy event and ticketing feature has everything parents and Ambassadors need to organise a get-together.


Send invites, receive RSVPs, collect payments and automatically issue e-tickets


Customise your event - add meal options and keep track of attendees with ease


Got a record of the day? Upload your event photos afterwards


Fundraising and volunteers Your Classlist community is also an instant fundraising network.


Engage more parents and raise more funds than ever


Recruit volunteers to help plan and staff events


Classlist is funded by high-quality advertising - if you'd like to fundraise through ads on your Classlist site and share part of the earnings, contact us for a chat


Plus much more


School run share map


Parent to parent messaging


Group and one to one announcements and messages


Party invites


Get your school started with Classlist today, it's completely free!
Don't just take our word for it
"Classlist is far more than simply a super communication tool for our parents at Christ Church Cathedral School (CCCS)." - Richard Murray, Head Teacher at Christ Church Cathedral School, Oxford
"From the first time I clicked on Classlist.com, I knew this was the website that Class Reps and parents had been waiting for! No more bits of paper from Class Reps in school bags, and the ability to communicate with parents so easily and safely are both appealing aspects of the site." - Rachel Hutton, Friends of Great Milton C of E School, and parent at Dragon School, Oxford
"It's modern and makes it easier for me to get my job done." - Maria Blick, Chair of the PTA, Christchurch Cathedral School
---