Rocktopus
Rocktopus-school workshops that ROCK! Rocktopus write songs, create dance moves and boost well-being by turning PE skills and school values into music videos that ROCK!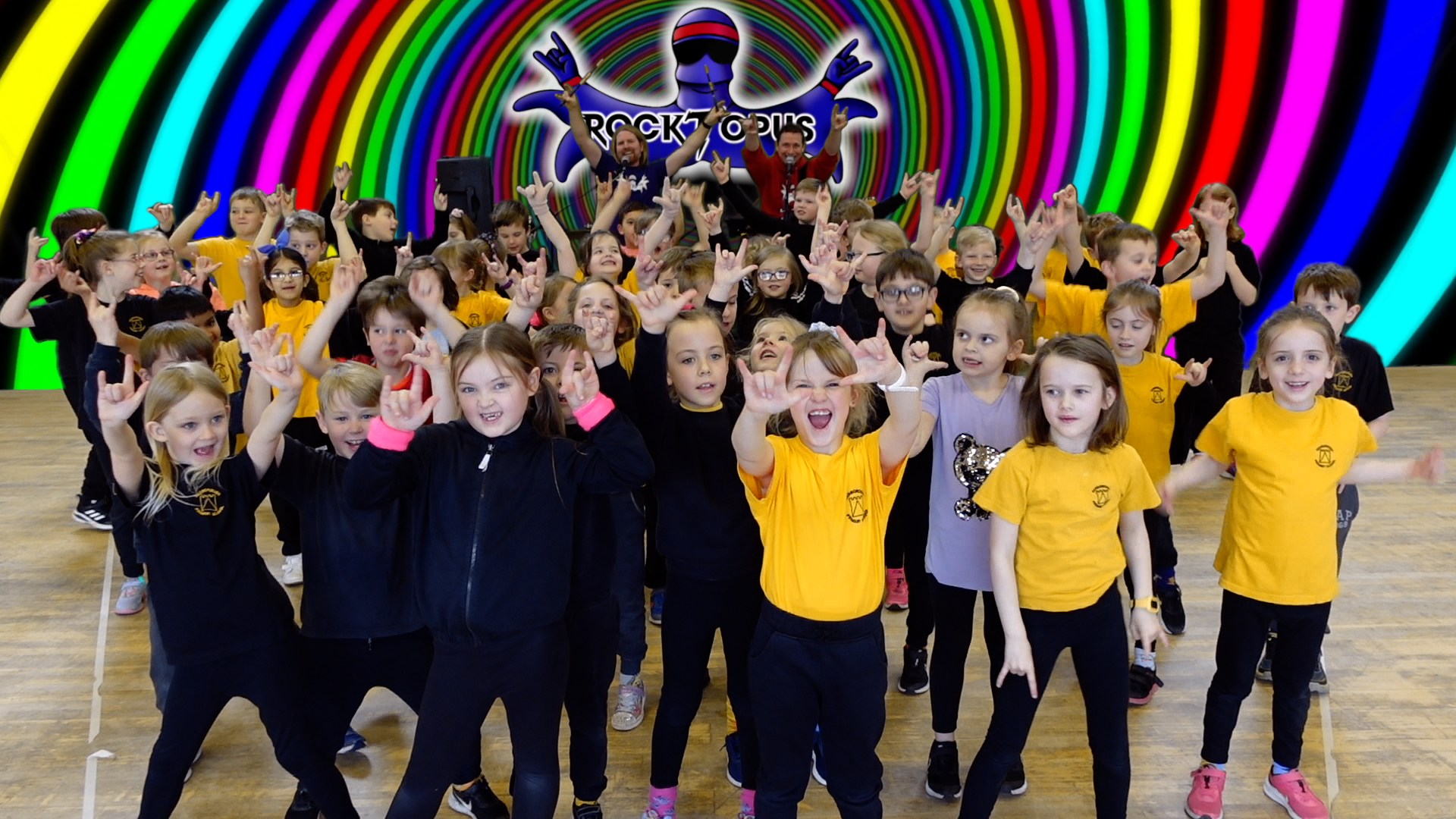 Introducing Rocktopus! A real-life rock band for kids and their families, Rocktopus have two albums on international release and a whole load of exciting live shows, festivals and school workshops under their belts. They are in fact the world's ONLY school workshop rock band!
Fully qualified and experienced teachers by day, rock stars by night, Tom and Andy are touring schools up and down the country with their interactive, live music workshops. A truly unique experience, these cross-curricular school workshops are cleverly designed to cover PE, music and literacy whilst supporting children's mental and physical well-being.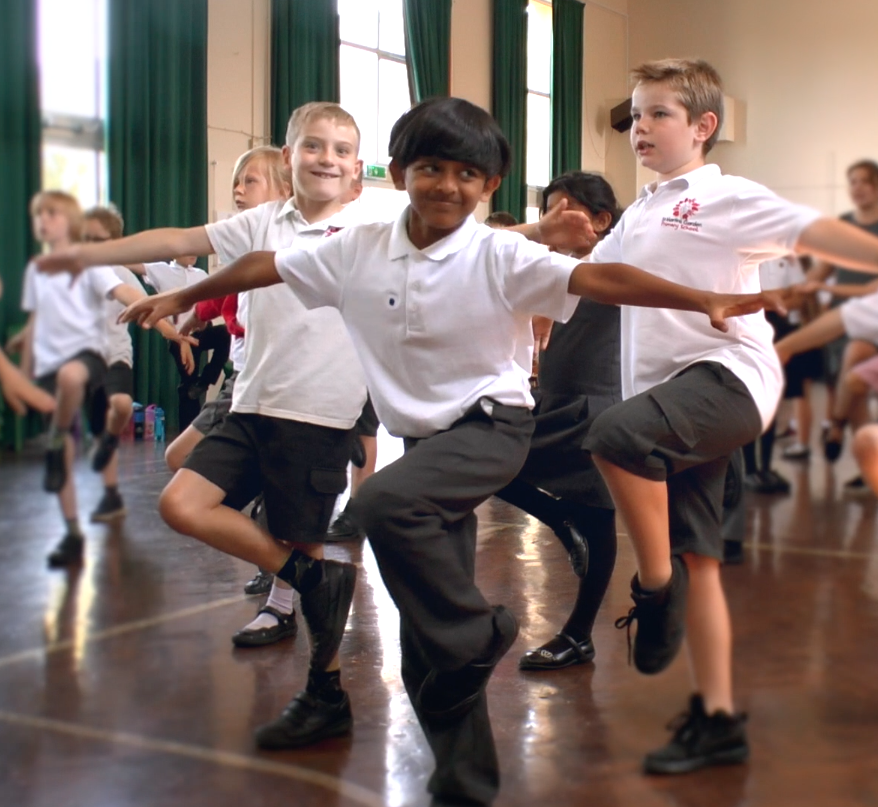 Schools have the choice of two workshops – Rock The Sport and School Values Rock – both are whole school experiences split into smaller sessions allowing each child to be involved in the creation of a song and music video. Ideal for even reluctant learners, these workshops are enjoyable, enriching and confidence building!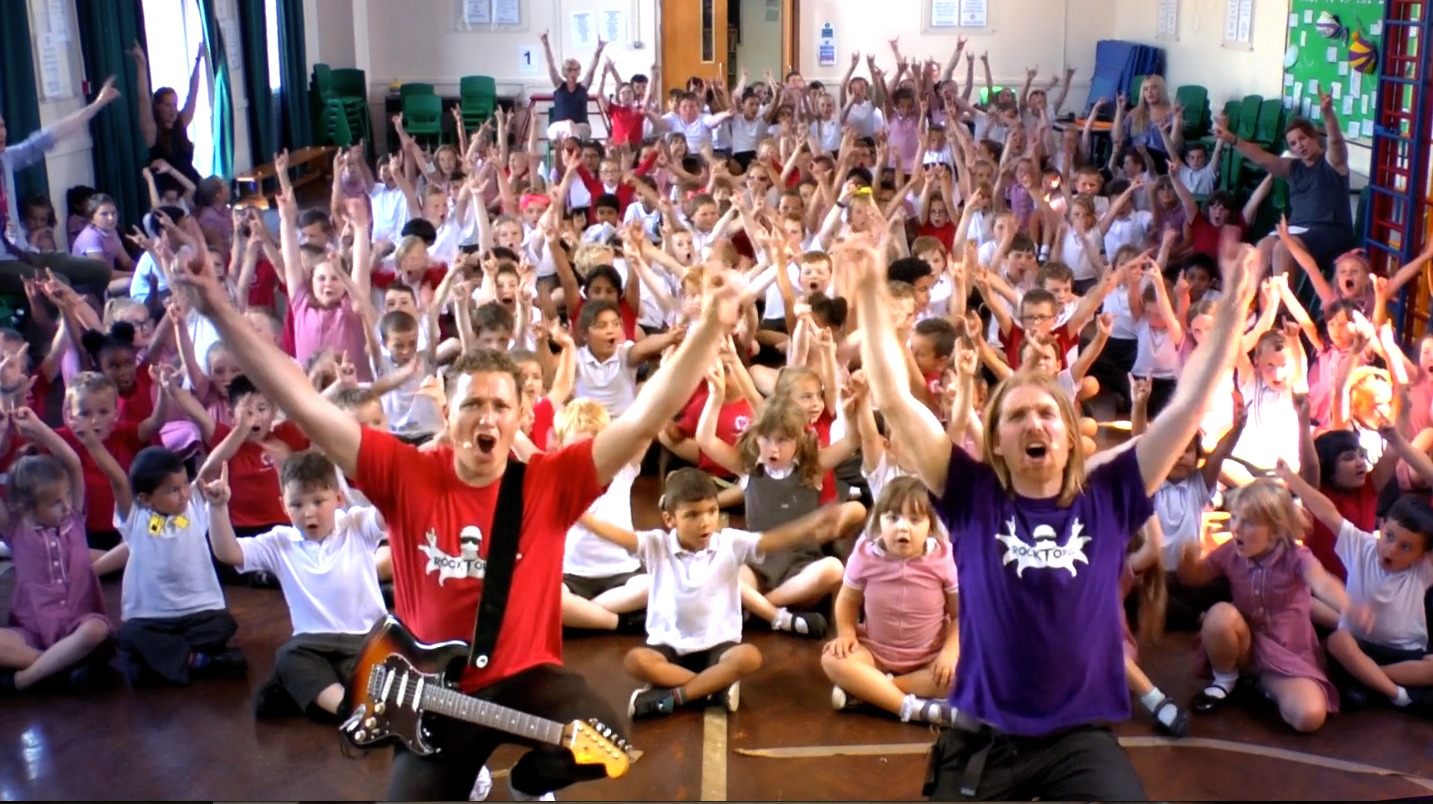 Rocktopus' Rock The Sport School Workshop is designed to get the heart pumping and creative juices flowing with real life rock stars! This workshop is packed full of awesome actions, dance moves and PE skills that get the children up and moving to the songs they've written about PE during their session with Tom and Andy. The workshop ends with the big finale – recording the live music video!
Rocktopus' School Values Rock Workshop is an excellent way of getting the entire school to understand and appreciate their school's values. With the creation of memorable songs and music videos, children will develop a passion and enthusiasm for their school's values like never before.
Each workshop costs £800 and is one full school day, broken down into four sessions. The band will create four awesome songs and energetic videos for the school and its children working with up to 2 whole classes at a time. Children can take their music video home and share with friends and family whilst teachers can use them in assemblies, during PE and Music lessons as well as brain breaks in the classroom. All workshops can be funded by Sports Premium money.
For more information and to book your unique Rocktopus School Workshop experience, contact rocktopuskids@gmail.com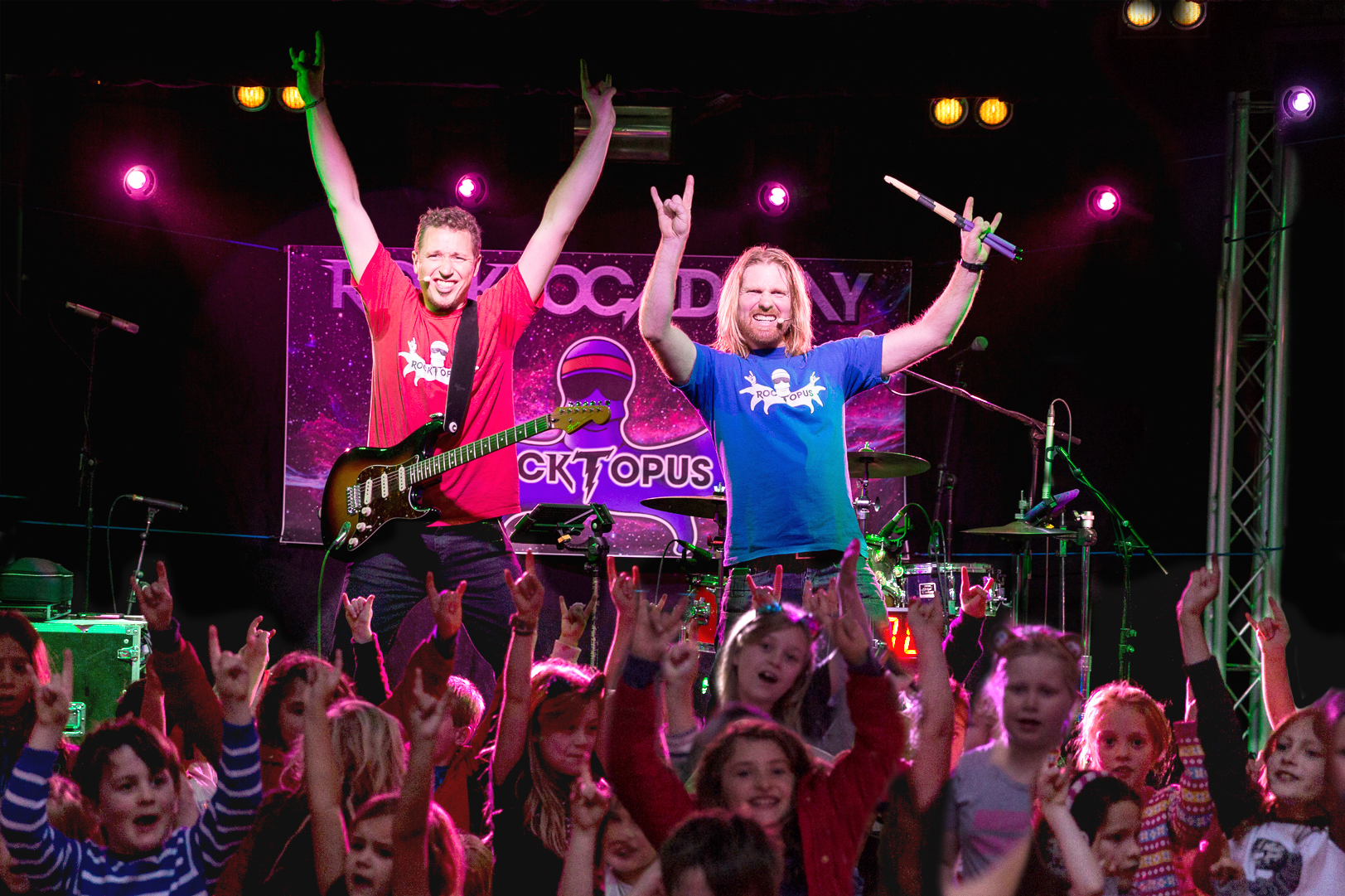 "What a brilliant workshop! We all (staff included) loved it! So much fun and great to see even more reserved kids 'Rock Out'!" - Katie Collins, Teacher, Longlands primary
"Thank you so much for raising our pulses and putting a smile on everyone's faces." - Sarah Mavis, Teacher, Longlands Primary
"The children have not stopped talking about the Rocktopus workshop. Every single child participated and they haven't stopped smiling. Awesome! Thank you!" - Miss Keen & Mr Fisher, Teachers, Longlands Primary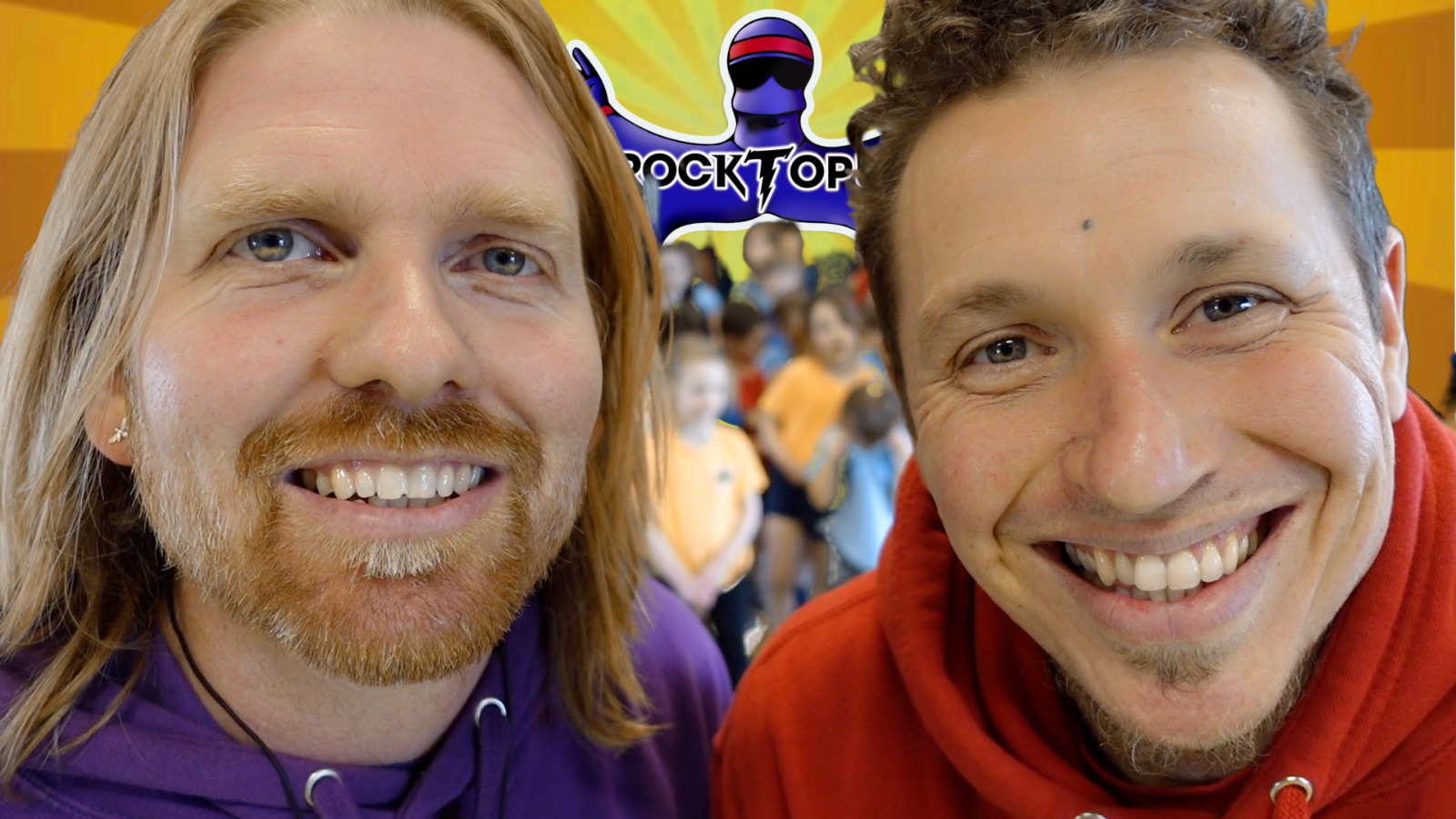 "Rocktopus came and rocked our socks off!" - All the teachers at Southfield Junior School
"Our pupils loved their time rocking out! It was a great fun and active day which we'll all remember!" - Miss Grierson, PE Lead, Wanborough Primary
"The children had a fantastic time! All were very enthusiastic and participated fully in the active and fun sessions that made them think about the importance of exercise." - Miss Barratt, Teacher, Woodborough Primary
"The children were at the centre of the process and they absolutely loved it. We now use the songs in our assemblies and the children have real pride in them because they created them. A brilliant experience!" - David Cook, Headteacher, Luckington Primary
"It's an absolute no-brainer! It's fun, it's inclusive, it's all the things that are fun about education rolled into one. We've had them in in twice now and have booked them to come again!" - George Samios, Headteacher, Twerton Infants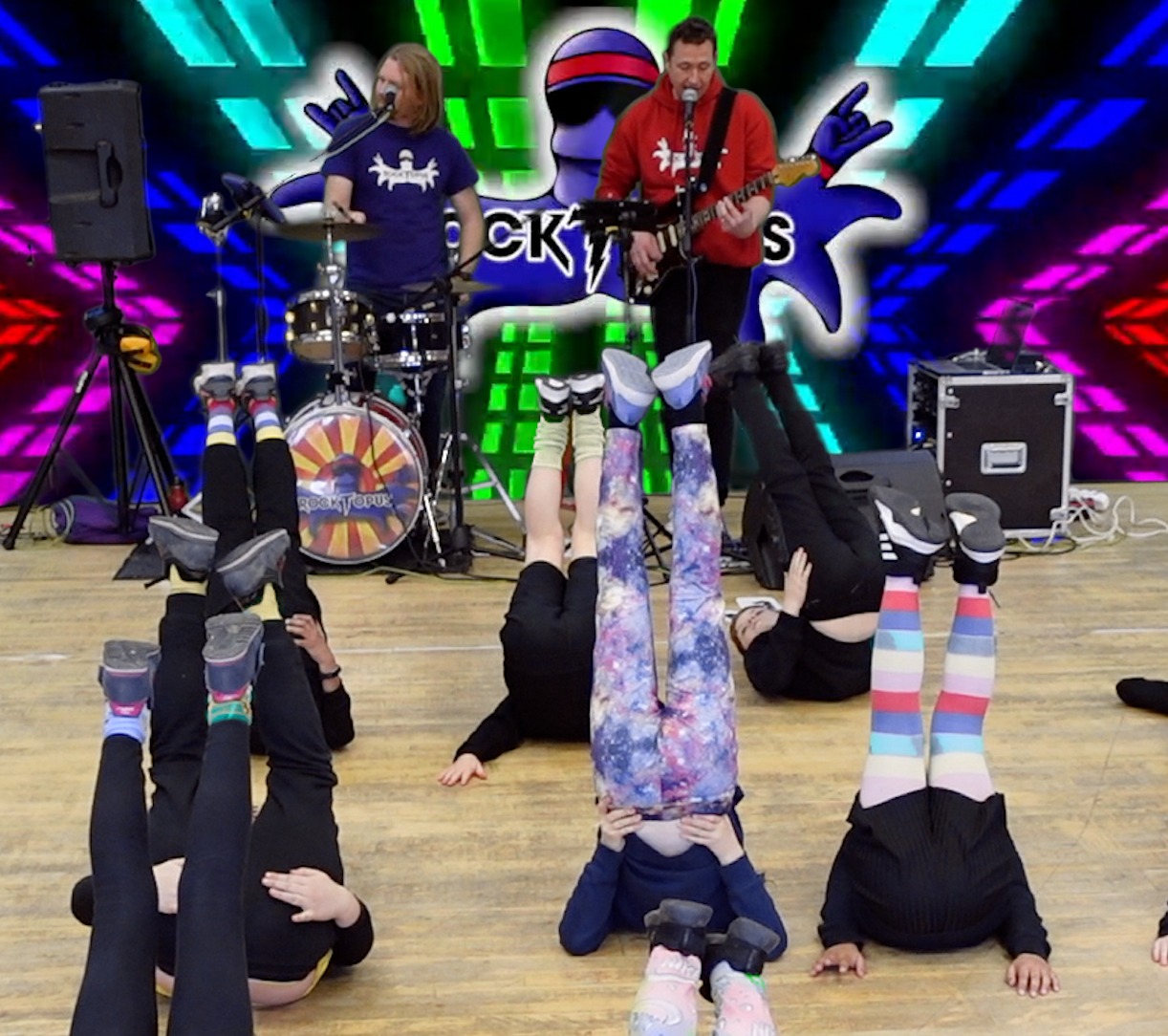 "What a truly unique day! Rocktopus combined the children's 2 most favourite things – P.E and Music. The children and staff will struggle to experience anything as amazing as this again! Thank you!" - Haylia Williams, Deputy Headteacher, St Paul's Catholic Primary School, Birmingham
"It's one of the best workshops that we've ever had in my 20 plus years of teaching experience!" - Katherine Reed, PE Lead, ByBrook Valley School
"I have never seen My 1-1 ASD child so happy as when he was in the Rocktopus workshop!" - Teaching Assistant, ByBrook Valley School
---