Queen's Platinum Jubilee
Printed & engraved products to celebrate the upcoming Queen's Platinum Jubilee, suitable for schools, associations & street parties.

The Queen's Platinum Jubilee 2022
In June 2022, the United Kingdom will once again be in the spotlight around the world while we raise a glass in celebration of Her Majesty Queen Elizabeth's 70th year reign.
The May bank holiday has been moved and extended to Thursday 2nd June 2022 and with an extra bank holiday on Friday the 3rd of June where we will enjoy a nationwide 4-day celebration to include splendour and pageantry like only the British know how.
Our Royal Jubilee events are synonymous with street parties and gatherings up and down the country, friends and neighbours will get together to enjoy this historic event and to show support and thanks for our Monarch, Queen Elizabeth II.
The Platinum Jubilee is set to be even more extraordinary than the Diamond Jubilee and that was spectacular. We can expect to see creative displays within the Royal Household along with the latest digital technological displays that have since evolved.
To help your celebrations along Gifts 2 Impress will be creating gifts to mark the occasion. These gifts will be made up of off the shelf products, with standard commemorative text, or more popularly, they will be offering personalised gifts for every organisation imaginable - schools & nurseries, local councils, Scout & Girl Guide groups, street parties, home care residences and businesses.
Below are some of the products that will be offered for the event. Right now is a great time to get those meetings planned and decisions in principle for the style of souvenir gift preferred. As this is such a big event, sooner rather than later is advisable.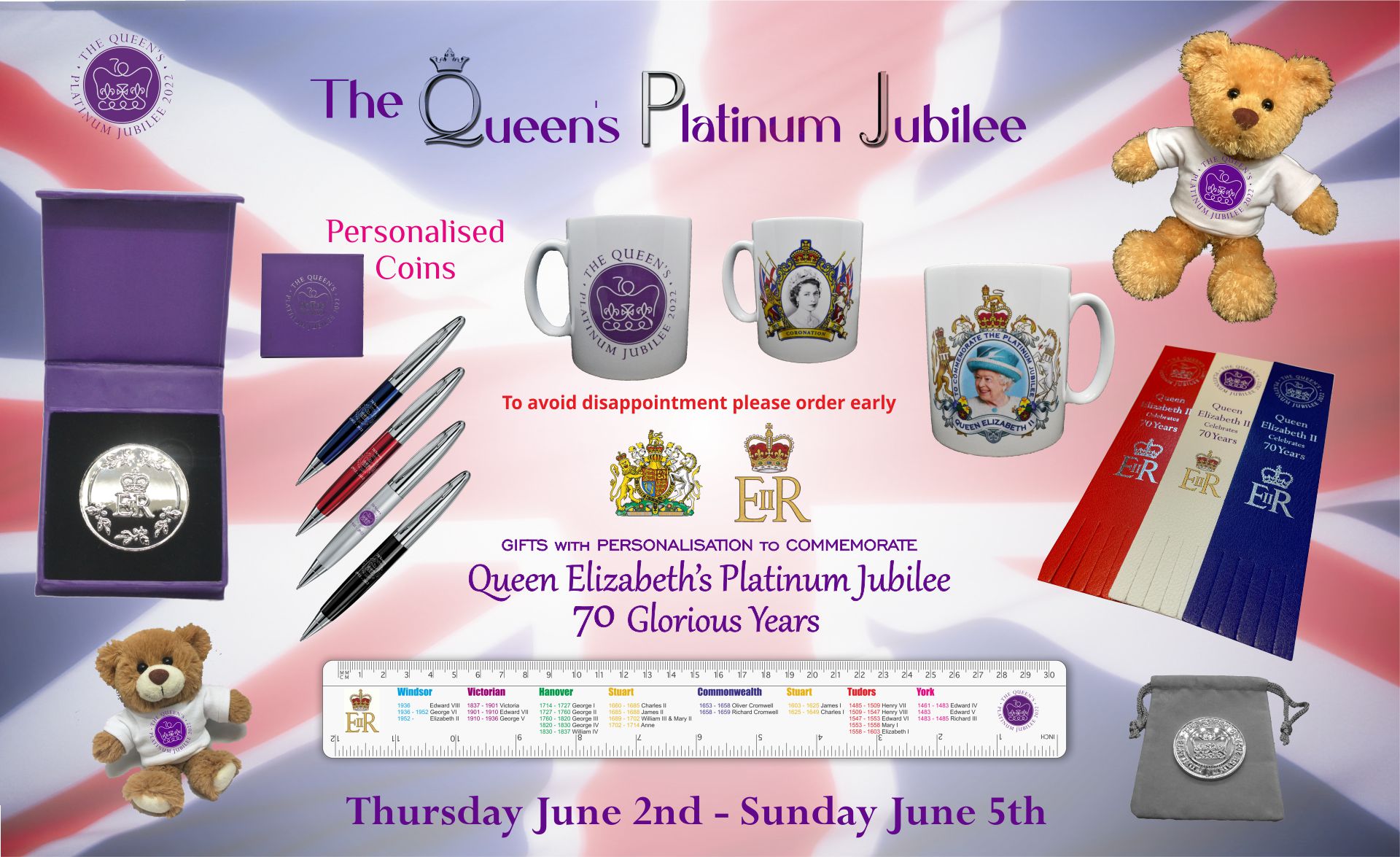 Queen's Platinum Jubilee Souvenirs


Queen's Platinum Jubilee commemorative coins - these can be engraved with text, logos, and individual names


Queen's Platinum Jubilee commemorative mugs - china and earthenware mugs are both available, catering for your budget


Souvenir plastic mugs – suitable for nurseries, and primary schools


Queen's Platinum Jubilee souvenir bookmarks – great for schools and adding foil blocked logos & text makes these very regal


Commemorative pens – metal with gift boxes for a long-lasting keepsake or plastic for everyday use


Ruler of rulers! – a fabulous timeline of Kings & Queens right up to the Windsors, personalised on the back


Teddy bears – bears with T-shirts or bears on a keyring with T-shirts, children will love these


'Hi Sandra/Graham, our jubilee bookmarks have arrived. We are delighted with them, they look amazing! Thank you so much.' - David Rickett, Engayne Primary School
---